As far as design of electronics is concerned, Bang & Olufsen has to be near or even at the very top of the list. The beauty of their products is always the object of desire. But that desire usually comes with a very expensive price. Plus, as far as electronics go, they usually aren't superb. I avoided buying the B&O Stereos because they were 1) just way too expensive, and 2) they sounded relatively poor. That was usually the same with the other devices as well – the TVs are beautiful but the picture quality isn't great (not to mention that they are a few generations behind in terms of technology — where's the B&O Plasma TV?).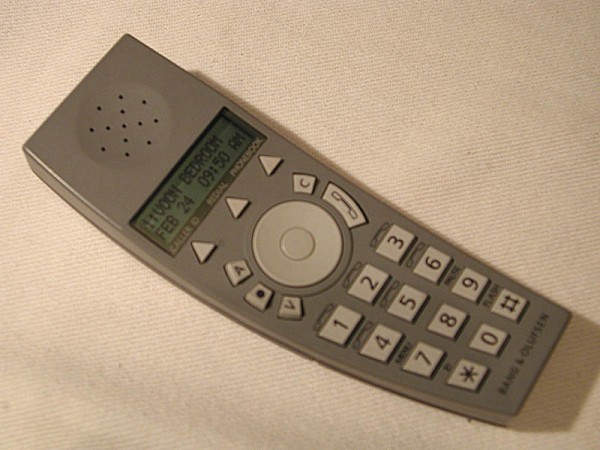 Anyway, B&O finally came out with a few "smaller" devices that are not only more affordable, but also well improved in terms of technology. The earphones, which I've already reviewed, are one example. The Beocom 6000 though was actually my first B&O product. This striking cordless phone is extremely impressive and when I saw pictures of it, I knew I had to buy one. Unfortunately, they were only available first in Europe, and later the US. Eventually, they finally made a version available here in Hong Kong, and I immediately bought one.
Form
Here of course is where B&O excels. The Beocom 6000 is a beautifully designed phone. The base is a Pyramid like metallic charger that sits on a table/desk. Its shiny metallic surface is quite stunning. Be warned: the acute corners are very sharp and can be used as a deadly weapon if necessary. The handset is shaped almost like a mobile phone. It moves away from the typical receiver-like shape of most other cordless phones (with its typical round earpiece for your ear and a block for the microphone). Instead, it is a design innovation with some pretty sexy curves. I never understood why companies like Nokia managed to make some really nice looking mobile phones, but nobody, not even Sony has made anything that even looks like a decent cordless phone – thank goodness for B&O.
The handset is well made with a plastic shell that feels sturdy but is lightweight. The buttons are well designed, as each key is big enough with lots of space between them that you won't accidentally hit a few other numbers while trying to push the number '5' (try that on today's mobile phones). Also, the jog dial is a neat little tool. I'm surprised only Sony has a jog-dial on their mobile phones, as this is a very useful gizmo. At the center of the jog dial is the 'button', and together, this is the primary way to navigate around the various functions and menus.
The phone comes in a number of different colors. I chose the blue because that is my favorite color. The B&O green and red are pretty ugly, but the black is pretty sleek. It's just a matter of personal preference.
Function
As cordless phones go, this one with the Digital Enhanced Cordless Telecommunications or DECT standard is a great improvement over past "digital" cordless phones. The 900 Mhz digital phones of the past still had quite a bit of static (DECT runs between 1800-1900 Mhz). With the Beocom, static is nearly non-existent. Both the user and the caller sound exceptionally clear to each respective party, even when you're walking around the house. I haven't had a chance to test the "distance" of the cordless but it worked even outside into my corridor when I was throwing the trash.
Caller ID, redial, etc. are all standard functions, and they operate as well as any other phone. The nicest function though is still its program memory coupled with that jog-dial. I can scan my entire list of programmed numbers in a matter of seconds with a spin of the dial.
The battery lasts a decent amount of time. I haven't had the chance to run it down, but I'd say on the average, you get about 4-5 days of normal usage. I basically charge it about every 2-3 days, after all, it looks the best when it's sitting up in its stand. Charging doesn't take very long so this wasn't a concern. Unfortunately, the battery that the B&O uses is a rather cheap battery cell that looks like 3 AAAs taped together. There's no ability to swap with an extra charging battery, as some other cordless phones offer. Because they are Ni-MH batteries, I'll also have to eventually get replacements for them. I'm sure a generic one would cost next to nothing, but B&O is going to charge me an arm and a leg to get new batteries. Oh well.
You can buy additional handsets (without the base) and program them to the same base as your first Beocom. You have the ability to name them different things, so you could have a different phone for each room or each person in a house. The downside is that you'll have only one base to charge each phone with. But you'll save quite a bit versus buying another Beocom set.
If you do happen to own any other B&O device, then this phone is an even better buy because it can control both the volume of B&O TVs and stereos. Neat, except I don't own either.
Factor
There are several things that I wish were included with the phone. One is an integrated answering machine. Of course B&O now sells a digital answering machine so if you want one, you'll have to fork out more dollars. A speakerphone, built into the handset, would have been a great function. Also, I would have liked the ability to plug in a headset. (I don't know, maybe I'm too used to using those mobile phone headsets; I get tired of holding a handset up to my head.) This aside, if you are in the market for a cordless phone, can you seriously get one better than this? My answer would be an emphatic 'NO', not at the moment. For clarity, quality, and just great design, the Beocom 6000 is an ESSENTIAL buy. After seeing how cool it looked in the movie "What Women Want", I know I made a great purchase.